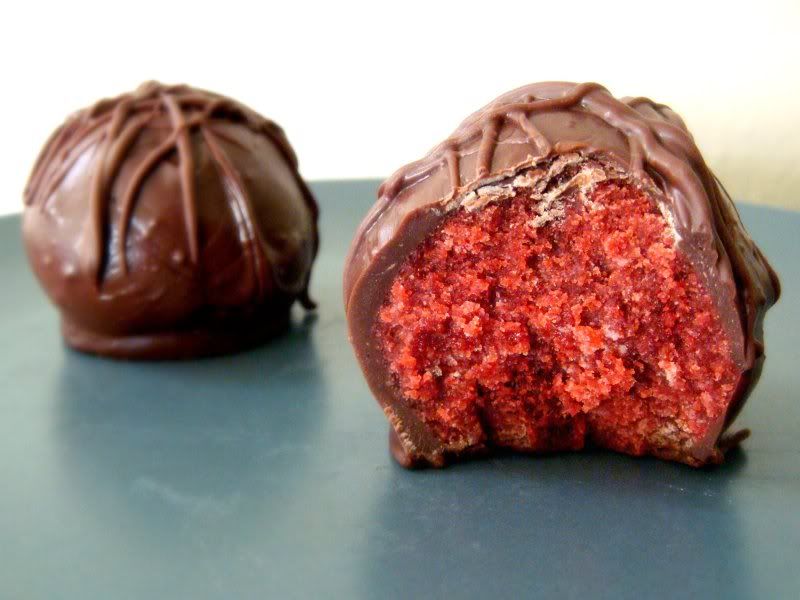 People always ask me to share my recipes and I can't always take credit for the great combinations of ingredients out there. Sometimes a good recipe can't be improved like the
Red Velvet Cake recipe
that I use from
Cake Central
. If you are looking for the perfect red velvet cake, you must try this one
and
if you are looking for a great resource for everything cake-related, definitely visit Cake Central (I learn tons from this site).
Sarah's Red Velvet Cake TWEAKED
Makes 2-8″ cake rounds
Ingredients
2 1/2 cups cake flour
1 1/2 cups sugar
3 tbsp baking cocoa
1/2 tsp salt
1 1/4 tsp baking soda
1 cup butter
2 eggs
1 oz red food coloring
1 cup buttermilk
1 tsp vanilla
Directions
Preheat oven to 350 degrees F.
Sift dry ingredients together and set aside.
Place the butter and sugar in the bowl of an electric mixer and beat at medium speed until light and fluffy, about 5 minutes. Beat in eggs one at a time. With the mixer on low, add red food coloring and then the vanilla. Add the flour mixture alternately with the buttermilk in two batches. Scrape the bowl and mix just long enough to combine.
Pour the batter into prepared pans and bake for 28 – 35 minutes or until a toothpick inserted into the center comes out with a few crumbs clinging to the toothpick. Cool the cakes in the pan for 10 minutes and then gently turn the cakes out onto a rack to cool to room temperature.
Recipe courtesy of Cakepro via Cake Central